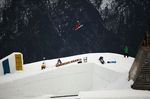 Das Superfinale des Quiksilver Spring Battle 2011 ging heute Nachmittag bei durchwachsenem Wetter über die Bühne. Dabei bewiesen sowohl Schwergewichte wie Marco Grilc, Seppe Smits, aber auch aufstrebende Talente wie Mathias Weissenbacher ihre Klasse und feuerten phänomenale Manöver über den Kicker.
Seppe Smits begeisterte die Crowd mit einem Cab 1260 to Backside 1080, Marco "Grillo" Grilc packte einen Backside 1080 Double Cork to Double Backflip aus.
Das finale Judging des Contests findet heute Abend zum ersten Mal auf Videoleinwand im Festsaal Flachau statt. Bei diesem Spektakel wird der Flachauer Nachthimmel mit Punk der Extra-Klasse von Cashless sowie anschließend mit einem DJ-Set von Teddy O (Tony Hawk Show, Air & Style Innsbruck) beschallt werden. Be there or be square!